Feeling of Swamiji
The Need of Medical Services at Haridwar
It is difficult to believe, but was a grave fact that a hundred years ago, Haridwar, certainly one of the holiest places in India, was completely lacking medical facilities. Many pilgrims, monks and local people used to simply and silently succumb to death once they fell ill. Because, there was no doctor or hospital in this entire region.

During his wandering days (in 1888-93), Swami Vivekananda came to what is today known as Uttarakhand and was deeply pained to see the pitiable state of healthcare for Sadhus and general populace in Rishikesh and other places in Uttarakhand. He intensely felt that something must be done in this regard.

With a view to mitigate their sufferings, in 1901 Swamiji sent one of his disciples, Swami Kalyanananda (1874-1937) to Hardwar to serve the ailing sadhus.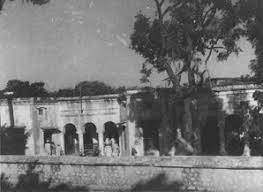 Foundation of Sevashrama



A spirited and dedicated monk, Swami Kalyanananda started the service in right earnest and was later joined by one of his brother disciples, Swami Nischayananda (1865-1934).Both these illustrious monks did a pioneering work in the field of medical care in this part and that is how the Ramakrishna Mission Sevashrama, Kankhal, came into existence. This glorious saga of service has been continuing since then, spanning more than a hundred and ninteen years now. From its initial humble beginnings, the Sevashrama has now grown into a large institution. Initially named as Ramakrishna Sevashrama, the Institution was renamed in 1910 as Ramakrishna Mission Sevashrama and affiliated to Belur Math in 1911.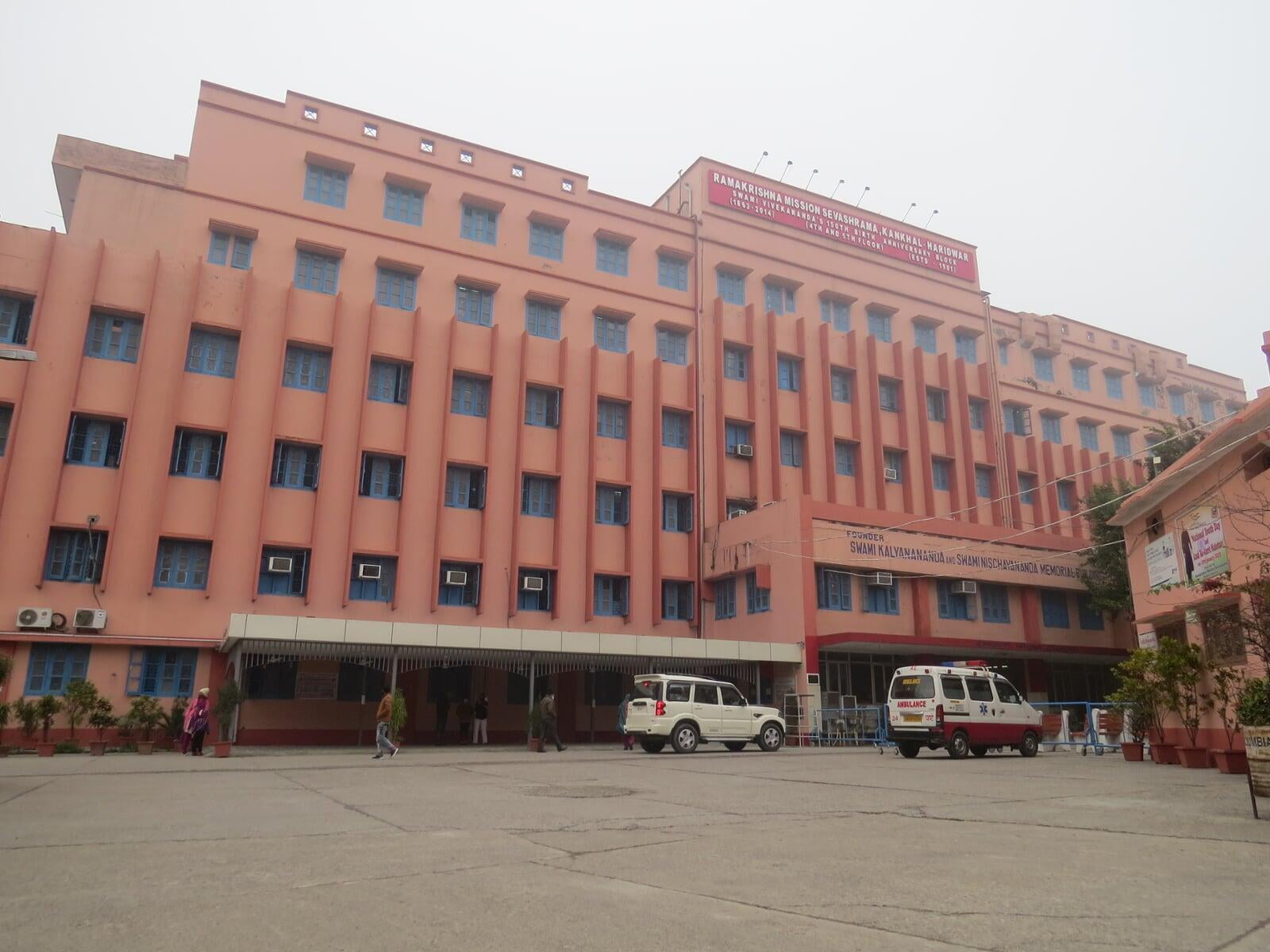 At present



A perennial river passes through all the impenetrable clefts and covers all the impassable terrains. Having no life of its own, it is emblematic of flowing civilizations. A charitable institute is no different. Starting from a single hut, this Centre grew to 120 beds in eighties and to 200 beds in this new century. It now has a well-equipped Laboratory, Sonography, I.C.U., N.I.C.U., H.D.U., Emergency Ward, Blood Bank, Mobile Medical Unit besides ophthalmology, orthopedics, general surgery, medicine, maternity etc.

The Sevashrama has completed centenary and its services treating all without making any distinction of caste, creed and nationality...
SHORT LIFE OF SWAMI KALYANANANDA
The life of Swami Kalyanananda was wholly dedicated to the welfare of mankind. It remains a perennial source of inspiration and a saga of selfless service for all those who take up service as a spiritual practice.
Born as Dakshinaranjan Guha in 1874 in Barishal district (now in Bangladesh), he came in touch with Teachings of Sri Ramakrishna and the Lectures of Swami Vivekananda and was deeply impressed. He thus joined the Ramakrishna monastery at Belur in the year 1898. Swami Vivekananda accepted him as a disciple and initiated him into Sannyasa vows by giving the name Swami Kalyanananda. Observing his extraordinary devotion and obedience, Swami Vivekananda blessed him by saying, 'Kalyan, you will be a Paramahamsa'. He surrendered himself fully at the feet of his Guru and gave his whole life to the cause of service and spirituality.
One day, Swami Vivekananda called him aside and told him, 'Look here Kalyan, can you do something for the sick and ailing monks around the Rishikesh-Haridwar belt? There is no one to look after them. Go and devote yourself to their service.' With this command of Swamiji in his heart he came to Kankhal near Haridwar in 1901 to carry out the task he was thus given. He took it up in right earnest with the motto given by Swamiji: 'For the liberation of one's self and for the good of the world'.
For thirty-six long years, until his passing away on 20th October, 1937, Kalyan Maharaj continued to serve the cause of service and sadhana by establishing now well-known Ramakrishna Mission Sevashrama, a hospital aimed at serving the holy men as well as the poor and the needy. His life was a shining light of renunciation and service, worship of God in man and love for mankind. He demonstrated through his personal example as to how to apply the principles of Vedanta in practice by seeing the Supreme Divine Reality in all beings in day-to-day life.
Ramakrishna Mission Sevashrama, Kankhal is a living memorial to this spirit of service and love which has inspired thousands to the ideal of service and spirituality.
``````````````````````````````````
For a detailed account of his life and contribution, please read Monastic Disciple of Swami Vivekananda, by Swami Abjajananda, published by Advita Ashrama, Kolkata. www.advaitaashrama.org
SHORT LIFE OF SWAMI NISCHAYANANDA
'By serving God in man as preached by Swami Vivekananda, Swami Nishchayananda attained that abode which is attained by the Jnanis (the seekers of non-dual realization) through knowledge, the Bhaktas (the seeker of God) through devotion, and the yogis through meditation'. This is how the life and contribution of Swami Nishchayananda can best be summarized.
Born as Suraj Rao in 1865 in a small village near Janjira in Maharashtra, Nishchayananda met Swami Vivekananda in Madras in 1897 and was deeply inspired by his divine personality and lofty ideas. He was then working in Indian army. This brief meeting further ignited his spiritual aspirations and in 1901 he went to Belur Math where Swami Vivekananda was then living. Pleased with his sincerity and honesty of purpose, Swamiji accepted him and later initiated him into Sannyasa vows and gave him the name Nishchayananda, a reference to his firm grit and commitment to any cause that he undertook.
He stayed at Belur Math and continued to serve in various ways until the passing of Swami Vivekananda in 1902. After visiting several holy places, he finally came to Haridwar to take part in the Kumbha Mela and met Swami Kalyanananda who had been serving the holy men and poor and needy by starting a Sevashrama at Kankhal. Once Swami Vivekananda had told Nishchayananda that a monk should not a burden to society and must give back the support and help he receives from the society. Remembering the teachings of his Guru, and seeing the devotion of Swami Kalyanananda, Nishchayananda decided to stay and help run the Sevashrama. He gave himself fully to work of Sevashrama. If he saw anyone wasting anything, he would say, 'Every brick of this Sevashrama is like a rib in my chest, and belongs to Sri Ramakrishna and Swamiji. Sri Ramakrishna and Swamiji are present here through and through. That is why we feel tremendous pain in our hearts when we find you wasting something or behaving carelessly.'
Until his passing away on 22nd October, 1934, he relentlessly served the Sevashrama with zeal and readiness. He led an austere life and was a true sannyasin to the core. His thirty long years of unstinted service and pure life, along with that of Swami Kalyanananda's sacrifice and service has provided a firm foundation to Ramakrishna Mission Sevashrama, Kankhal.
'''''''''''''''''''''''''''''''''''''''''''''''''''''
For a detailed account of his life and contribution, please read Monastic Disciple of Swami Vivekananda, by Swami Abjajananda, published by Advita Ashrama, Kolkata. www.advaitaashrama.org